300 episodes. 300 hours. 18,000 minutes. That's a lot of television. Grey's has given me things I never expected and taken me places I never thought I would go. A few weeks ago, I decided to put together this post in honor of Grey's Anatomy's 300th episode, and it's finally time to share! 
---
Let's take a walk down memory lane and take some time to remember why we all love this show so much.
---
A Hard Day's Night aired on March 27, 2005; the starting line of a journey we're still taking. We met Meredith Grey, Cristina Yang, Derek Shepherd and so many other characters we'd quickly grow to love. A family formed, a bond was created and we jumped in together.
We found out Who was Zoomin' Who in the finale, and we all stared, mouth agape, as Addison Montgomery Shepherd strutted through the door. She quickly became one of the most hated characters in America with these words:
Raindrops Kept Falling on Our Heads after Meredith announced that McDreamy was actually McMarried, but Cristina was there telling Meredith, "you're my person." A phrase that quickly took over. A bond was created at that bar… the real love story of Grey's was born.
One of the more famous episodes came on February 5, 2006. We all settled in for the Super Bowl and didn't move for hours. Remember why? Because Meredith was holding a bomb. We all knew It was the End of the World As We Knew It. I'm still stressed out from that and I was nine years old when I watched that happen.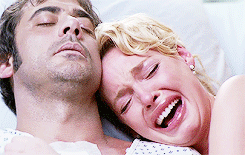 And then on May 15 of that year, we said our first Grey's goodbye to Denny Duquette as we cried to Snow Patrol's Chasing Cars for the first time. That song quickly became part of the Grey's (Losing my) Religion. A song that will forever cause spontaneous tears for anyone who watches the show… no matter what cover they choose to play.
And then it was Six Days on January 11 and January 18 of 2007 where George O'Malley (and Krista Vernoff) broke our hearts once again. Is it even possible to not cry when George is sad? I don't think so. Krista took her own tragedy and turned it into art on our television screens.
And then we thought Meredith was dead. For three weeks. A lot of you don't know what this wait was like because you binged it in two hours on Netflix, but those of us who have been around? We remember what those weeks felt like. We spent a lot of time and wondering if Meredith could maybe just Walk on Water and hoping that she wasn't Drowning (on Dry Land). And in the end we got Some Kind of Miracle and Meredith pulled through.
Didn't We Almost Have it All? On May 17, 2007, we thought so. But then Derek and Meredith sort of broke up, George failed his intern exam, Cristina lost her eyebrows and her groom, resulting in Meredith cutting her out of a wedding dress while Ingrid Michaelson made us sob with "Keep Breathing" playing in the background.
Then we met Lexie. And immediately fell in love with her. A Change certainly did Come when we had more than one Grey roaming the halls of Seattle Grace. It may have gotten off to a rocky start, but the Grey sisters pulled through and showed us a new kind of bond.
We got through kisses with nurses, Addison's departure, everything that came with Ava/Rebecca/Jane Doe and then finally, on May 22, 2008, we got the house of candles. After waiting for so long, MerDer were finally back together. The clinical trial was a success! We could stop repeating, "he's with Rose, he's with Rose, he's with Rose" over and over again in our heads, because Derek got some Freedom and was back where he belonged.
And it wouldn't be a tribute if I left out the ghost sex. You know what I'm talking about. Sometime In the Midnight Hour, Izzie decided to take her dead fiancé to bed. That was a little out there, but it all made sense in Stand By Me. 
We watched Derek make An Honest Mistake and we watched Meredith Follow Him Into the Dark until she got an Elevator Love Letter and sealed the deal with a kiss. Much like we are now, Derek and Meredith took a walk down memory lane and remembered all of their cases: Katie Bryce and Beth Monroe to name the more memorable ones.
Izzie went from hallucinating her dead fiancé to walking down the isle to Alex Karev. Oh, What A Difference A Day Makes! Some were mad that Meredith and Derek didn't get the "churchy church" wedding, but don't you think the alternative was better? (This also marked a big Grey's milestone: hitting 100 episodes! Nobody thought that would happen… look at us now!) 
Cancer, buses, and post-it notes really got us going on May 14, 2009. It was Now or Never. They didn't have time, so they signed a post-it. "This is forever." One of the most iconic moments in Grey's history. But it wasn't all wedded bliss… John Doe turned out to be George (and I'm still not over it), Izzie took a turn and we were stuck on a cliffhanger for months!
Then we all woke up on September 24 and said Good Mourning. George was dead, Izzie had no memory retention… it was a rough week. We said Goodbye to one of our favorite docs forever. What was it with Krista and George?
When we all Gave Peace a Chance, we were rewarded with that famous tumor on the wall drawing. And there's just something about seeing Lexie Grey and Cristina Yang in diapers that makes you laugh… don't deny it. You laughed just thinking about it, didn't you?
But then, all of a sudden, our Sanctuary wasn't so "holy" anymore. Gary Clark tore through Seattle Grace, bringing with him Death and All His Friends. We screamed right along with Meredith as Derek Shepherd went down on the catwalk, we cried with Miranda Bailey as she held Charles Percy as he took his last breath and our hearts broke as we watched Alex Karev struggle to stay alive on an elevator floor. But we made it through.
On September 23, 2010, Cristina finally got down the isle… or more accurately, the steps of Meredith's house, and a little faith was restored. Owen with his suit and Cristina with her eyebrows said "I do" in front of their closest friends. (Except Derek who was in jail and smelling like urine.) Would these two wounded souls be Born Again?
We watched Cristina struggle to find herself again after the shooting. Was she a surgeon? Was she a bartender? We didn't know, and neither did she. Until she caught a giant fish. We set out, Adrift and at Peace, and began to heal right alongside our favorite characters.
March 31, 2011 went down in history when we were blessed (although some would say cursed) with Song Beneath the Song. Shonda Rhimes' genius pulled through. Coma-Callie Torres was strutting through the hallways of Seattle Grace Mercy West belting out all of our favorite songs. It's still one of my favorite episodes.
We all danced at a White Wedding as Callie and Arizona finally tied the knot. Calzona was already one of the most groundbreaking couples on TV, but this wedding cemented that part. Leading what some have called an "LGBTQ revolution" in entertainment, more people were finding their tribe.
Next, Zola entered and stole all of our hearts, but the baby bliss didn't last long. The Alzheimer's trial exploded and Meredith and Derek fought worse than we'd seen in a long time. I wasn't sure They Would Survive. We were left with a giant question at the end of season seven: will they make it?
September 22, 2011 came and we were still Free Falling without an answer. And then She was Gone. It really looked like Zola was out of the picture, and Meredith and Derek would be signing divorce papers. It was quite the rough patch.
The doctors geared up and went head to head with Seattle Presbyterian in the softball game we're still talking about. Teddy was begging with pleas of Put Me In, Coach, Lexie was throwing balls at boobs, and Meredith and Cristina were drunk. Just a normal afternoon with some of our favorites.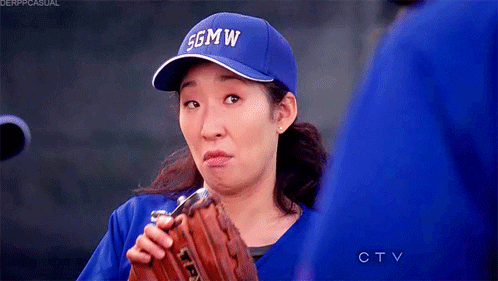 But then, Suddenly, Zola was back and the McDream Family was reunited, and every Grey's fan let out the breath we'd been holding for months. But while one family was completed, another was cut in half. We said another tearful goodbye to a fan favorite: Henry Burton. But at least Scott Foley's head still pops up every now and then!
Something about Meredith and Alex being engaged, April sleeping with Alex, April being Meredith's person, Derek and Addison still married, Ellis alive and lucid and married to Richard, Owen and Callie married with three kids… I can keep going. We were staring at our TV screens for an hour thinking about all those If/Then questions that could have been… thank God they weren't.
We watched the interns turned residents finally become grown up doctors as they traveled to San Francisco to take their boards. Turns out, April was really Letting The Bad Times Roll. A drenched suit, bathroom sex, and failed board exam later, she was faced with choosing between the Tasty Freeze or milking cows on the farm. Tough choice.
And then there was May 17, 2012. The episode that traumatized us all. Every time I (and probably a lot of others) step on a plane, we see this doomed Flight go down. We see Lexie trapped under the wing, we hear Arizona's screams, we remember Derek crushing his own hand, we remember, we remember, we remember… it's one of the most heartbreaking episodes of television. The Slexie story ended. Arizona was down a leg. Cristina was down a shoe. Derek could've been down a hand… it wasn't fun out in those woods.
It seemed like all our favorites were Going, Going, Gone there for a while. We were left with a four-month-long wait to see what other victims the plane crash would claim… and it was Mark Sloan. To this day, Mark is one of the hardest character deaths for me to watch. I just hope he and Lexie are happy… wherever they may be. But we lost someone else, at least for a few episodes. Yep, Cristina Yang was freezing to death in Minnesota, leaving Meredith, or "Medusa," to deal with the new interns alone.
But then a Beautiful Doom brought Cristina back to Seattle. She showed up at the dream house door, drunk from her tequila diaper bag, and the twisted sisters were back together again.
She didn't forget, but Miranda Bailey ditched her own wedding to save Adele Webber who showed up at Seattle Grace. Callie told her to Run, Baby, Run and Ben thought she did. It wasn't until January 10, 2013 that we got the wedding… but the vows weren't the only Things They Said That Day. Richard showed up to the wedding, but Meredith saw through it: Adele was gone.
If one good thing had to come from the plane crash, I think 15 million dollars could work. I hate to be all about the money but… have you ever had 15 million dollars? Because I haven't. The End Was the Beginning Was the End: the plane crash was over, they were rich, but now we had to worry about the hospital keeping its doors opened. Some were physically Walking on a Dream. Arizona's phantom limb was causing a lot of pain. Ross kept screwing up Meredith's patient's liver (Ross and her hormones were not a good mix), and now everyone was on edge because Alana Cahill was there to shake things up.
On February 21, 2013, the hospital got new ownership. That Was Why They Fought: to keep their hospital, their home. But Seattle Grace Mercy West was no more. Instead, Jackson proposed a name change that sent all of us into sobs: Grey Sloan Memorial.
It was smooth sailing for a while, until we were hit with a Perfect Storm. Everything went wrong. The hospital had no power, Richard and Heather Brooks were down, Meredith was about to die giving birth, a bus crashed in the parking lot and Jackson played super man almost getting himself killed, Calzona split up after Arizona cheated on Callie, April is once again sending mixed signals to Jackson… got it? A perfect storm.
Joan Raters Sealed Our Fate in the season 10 premier on September 26, 2103. Richard was barely hanging on (his first and only brush with death… so far), Meredith and Derek were a family of four, Calzona sunk, Mousey died… it was a balancing act of an episode.
And then we hit 200. We got dressed up, Put on the Ritz, and went to a gala. Cristina taught us how to hustle with alcohol, Callie taught us how to hustle by pretending your wife is dead, and April got drunk and wanted to wear Arizona's leg and Derek showed off his juggling skills. It was really a party. But not so much at the hospital. Shane went crazy and all but killed Alex's dad… this just proves that sleep IS important. Go to bed! (Saying this for myself.)
And then Jackson surprised us all. He Got Up, and he definitely Stood Up, when he interrupted April's wedding to Matthew and ran off with the bride. But what else interrupted the wedding? Obama calling Derek. Yep. That happened too.
Cristina spent an entire episode living out two different scenarios in her head: one in which she and Owen had kids and the other in which they didn't. Mrs. Rodriguez was the best part of all of that, don't fight me. Do You Know how much I miss Cristina Yang? You probably do.
Cristina tried to play off the fact that she was nominated for a major award… there were not chants of "I'm Winning, I'm winning, I'm winning" coming from her. And thank God Owen and Meredith were there so she didn't have to Go It Alone, because winning would've been one thing, but losing? Cristina Yang doesn't lose. That's when she hopped on a plane to Switzerland, and ran into Preston Burke. Yikes. But he made up some ground when he literally handed her her own damn chocolate factory. I also consider it a blessing that there was a mutual We Are Never Ever Getting Back Together agreement between them because I couldn't have handled that.
And the entirety of season 10 was building up to this moment: Cristina Yang's exit. We all knew it was coming, Sandra and ABC were very open about this happening. But that didn't make it any easier. I still consider that exit one of the hardest for me to watch. There was some Fear (Of the Unknown)… how was Mer going to deal without her person? How was Cristina going to deal without hers? And then Tegan and Sara killed me. "Where Does the Good Go?" will be the Twisted Sisters' anthem for the rest of time. I'm sorry but that's not up for discussion.
And suddenly we're to season 11. September 25, 2014 was the kickoff date for the toughest, darkest, most tear-inducing season of television to ever exist. As if my senior year of high school wasn't enough to stress about, now I had this too. But we made it through. I Must've Lost It on the Wind though, because I stopped counting how many times I cried pretty early on into the season.
We Had to Be Real when we found out that Meredith now had another secret sister, we learned more about Ellis Grey than ever before when everyone realized that, yes, Mama does Know Best, Callie and Arizona spent a lot of time in therapy, but eventually they Bent and Broke, Derek took a major Risk and headed off to D.C., All We Could Do Was Cry when Jackson and April lost their son, Amelia went The Distance and operated on Dr. Nicole Herman's giant brain tumor (and also introduced us all to the infamous superhero pose).
April 23, 2015. How to Save a Life. Shonda Rhimes sent me into a sobbing heap on the floor in less than an hour. I remember getting sent home from a tennis match because I was crying so much over Derek Shepherd. It was a rough few days for me, for all of us I'm sure. We'd spent the past decade watching Derek and Meredith evolve and then a semi took that all away. I still can't bear to watch that episode, unless I'm feeling a good cry… if that's the case, well. It works. And it's not Derek's death in itself that does it, it's Meredith's reaction that gets me every. Single. Time.
But Meredith is a badass and she came out on top. Like she always does. She Left Home for a while, she let Time Stop, but then she was back in business… mostly. April proved how much of a badass she is too… I mean she did bring a destroyed car attached to a patient to the hospital. And proceeded to stand on top of it like super woman. Legends only, guys. Legends only.  Richard and Catherine tied the knot (if she gets Alzheimer's…), Amelia got some closure with a voicemail, and Maggie's perfect world was shattered like glass when she found out her mom had been having an affair for years. But that's nothing a little dancing won't fix! Have you not learned anything? Dancing is always the answer.  You're My Home provided some relief after such a long, dark season, and reminded us that the "no matter how dark it gets, sun's gonna rise again."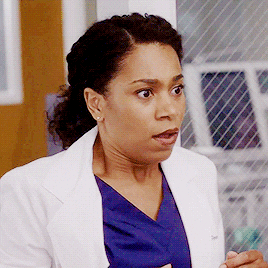 And then we got season 12. The music this season was some of my favorite since the early days… I mean, all those covers? I never would've found these artists if Alex hadn't thrown them into the soundtrack. I mean, Amelia took a Sledgehammer to a wall, but it was fine because we had a cover of Rude Boy going on at the same time. But I have to mention the patients in this episode: the two girls who stepped onto the train tracks so they could be together. Stories like this one are so important to tell, and to tell them right. Something this episode definitely accomplished. Maggie Pierce punched a homophobe, y'all!
Meredith Grey has been the calm in the middle of the chaos since season one. Even Dr. Bailey thinks so. She's spent so long Standing Tall and was finally rewarded for that by being appointed Chief of General Surgery. But she didn't stop there: Meredith Grey knew she was worth more than she was getting. And instead of settling, she goes up to Bailey and tells her that. Money matters, guys. We pretend it doesn't, but we all know it does. And we (women especially) fell uncomfortable asking for more even when we know we deserve it. Meredith Grey taught us that we don't have to feel bad about getting what we have earned.
"I Choose You" was Meredith's message to Maggie when her ex-boyfriend's wedding invitation sent her into an existential crisis… I love that scene.
Parties never seem to turn out the way you expect them to in the world of Grey's Anatomy… and this one was no exception. Guess Who's Coming to Dinner? This was the most awkward dinner I've ever seen in my entire life. Even more awkward than the Christmas dinner in season six when Dr. Bailey's dad was in town, or that one time Thatcher and Susan came over.
Meredith was forced into teaching Penny Blake, the resident whose failure to push for a head CT cost Derek Shepherd his life, and she handled it as only Meredith Grey could. She teaches her. Amelia clearly had Something Against Her, but can we really blame her?
February 11, 2016 will go down in history as the day one of my favorite episodes of television aired. We were there as Meredith heard nothing but The Sound of Silence after being attacked by her patient, crumpled up on the floor, terrified, and in so much pain. We hurt with her. This episode held so many lessons in it, lessons that I didn't know I needed until I heard them. I'm sure I wasn't the only one. Also, Denzel Washington directed it. What more could you want than that?
And then we got a movie. Japril the Movie, to be exact. I'm usually not one to care for episodes that are centric to anyone but Meredith Grey, but this one surprised me. Jesse and Sarah were phenomenal. Our hearts broke right alongside theirs as we were sucked back in time through all of their roughest moments. But then we saw the couple, the best friends, they used to be and a little bit of hope was reignited. They were Unbreaking Our Hearts through the screen.
Katie Bryce showed back up, this time all grown up and with a pretty impressive aneurysm. I've decided that in My Next Life I'm going to take up rhythmic gymnastics.
And then the dream team made a merman. A MERMAN! All Eyez were on Them as they worked to save the life of an American hero alongside Dr. Thorpe. Remember him? Yeah… that went well.
There's a Fine, Fine Line when it comes to doctors and patients. And Ben Warren crossed that line when he decided to perform a C-section in the middle of the hallway. Not only did this put a damper on his professional life, his personal life took a bit of a hit too considering he is married to the chief of surgery.
So here's the deal: Callie wanted to move to New York to be with Penny and take Sofia with her. Arizona was obviously not following the ex-wife to the opposite coast but she also wasn't going to let Callie take their daughter either. Callie went into the trial sure that she'd win custody. She tried… Mama Tried hard. But it wasn't enough. Sofia ended up staying in Seattle with Arizona. For now.
At Last, Riggs and Meredith took a step. I know this is a very divisive storyline, but I couldn't leave the car sex out of this. I just could not do it. (Four times.)
Amelia and Owen finally got it together (but did they really?) and decided to get married. But Amelia wouldn't be Amelia if there wasn't some kind of existential crisis. And boy, was there. Three slushies, one drenched bride, and two drenched bridesmaids later, she did make it down the isle. It was a Family Affair, the sister chief trifecta was back at it again. Also, April Kepner got sliced open on Meredith Grey's kitchen table by Ben Warren, and baby Harriet was born. I can still hear her screaming… wow. Sarah Drew, I don't know how you do it. And there was also that tiny bit about Jo being married and DeLuca getting her home from the bar only to be beat to hell by Alex, and then Callie left Seattle for New York. It was a rough night.
September 22, 2016 marked the start of the thirteenth season, and Alex Karev found himself in more trouble than ever. I'm sure he was feeling an overwhelming urge to Undo everything… I know I was. DeLuca was a mess, Jo was a mess, Amelia and Owen were married, Maggie thought Riggs was into her, Meredith was trying to cover for Alex and keep her job… everyone was a mess.
Alex and Meredith really put us in our fetus feels in Roar. We've always known these two were close, but standing by someone through a criminal investigation? A crime they both know he committed? That's unconditional love right there. (PLATONIC LOVE!!!!) And I'm still waiting for us to see the waffle Sunday's Alex was so adamant about having. And we had a new arrival shortly after, and she didn't hold anything back. Eliza Minnick may have rivaled Addison Montgomery in the most hated character department… nobody comes after Richard Webber. (She grew on my pretty fast, though.)
We were all in The Room Where it Happens when Richard, Meredith, Owen, and Stephanie worked to save the life of a John Doe patient brought in from an MVC (a car crash, for those who didn't know). Bubble episodes are some of my favorites, and this one was done brilliantly by Meg Marinis. We learned more about Richard, Stephanie and Owen than ever before and they told those stories in such a captivating way. Also, the scene where Meredith relives the moment she told Zola and Bailey about Derek's accident? I still can't watch that part.
Jukebox Hero finally came and we all let out a collective breath of release. Alex wasn't going to prison. Meredith didn't know that, but apparently Alex decided sleeping all day was more important that letting his family (yes, family) know that prison wasn't going to happen. Common courtesy, dude. Common courtesy.
In Montana, we all asked "Who is He (And What is He to You?)" when we met Jackson's father for the first (and I'm assuming only) time. April asked the same thing. Regardless of the mess they're in, they still care about each other. That much is obvious. There was even some… I don't want to call it makeup sex because that would imply that they're back together, which we all know isn't true.
And it seems we had a little theme of meeting the parents, because right after that, we met Maggie's mom. And we all fell in love with her. Which usually doesn't mean good things in Shondaland. That was definitely the case here. On March 30, 2017 we were all hit with Be Still, My Soul. This is actually one of my best Grey's memories, because while the episode is heartbreaking, I got to see it early at PaleyFest. Hearing Ellen and Kelly talk about it was amazing. Ellen's directing debut was phenomenal, but I'd expect nothing less from her. She really opened up about how her childhood tragedies helped her make this piece of art come to life. And Kelly's acting (alongside the ahhhhh-mazing LaTanya Richardson) was beautiful.
Another plane, cue panic. At least this one didn't crash. We were In The Air Tonight and Meredith was doing brain surgery. On a very turbulent plane. Of course, that was after joining the mile high club with none other than Nathan Riggs. And because she's such a badass, that surgery gained a lot of press for Grey Sloan, which snowballed into Maggie finding about her and Riggs' relationship. Ouch. Everything worked out in the end, and Maggie even hopped on team Griggs/Merthan for the five seconds it lasted.
We saw some True Colors come out, especially Alex's when he went to a medical conference to get eyes on Paul Stadler. Jo's abusive ex-but-not-legally ex-husband. But no punches were thrown, so that's movement in the right direction. And then some other stuff happened AND THEN THE HOSPITAL EXPLODED. Because, why not? That was one disaster that hadn't happened yet.
May 18, 2017. Ring of Fire was a pretty accurate description of what went down at Grey Sloan… including actual parts of Grey Sloan. Steph got to be a superhero. An actual superhero. I'm not sure what else I would call saving a child from a rapist by setting the dude on fire. That's about as badass as it gets. Also badass? Actually being alive when everyone thought you were dead for the past decade. But Megan Hunt did that. The kicker? Nathan and Meredith. I can't say it any better than Shonda did in this tweet:
Krista Vernoff returned (BLESS) and Broke Down the House right off the bat in season 14. First of all, she brought Teddy Altman back. She brought Owen's sister back. She made Meredith Grey into a medical superhero who can do abdominal wall transplants. She brought us Carina DeLuca: orgasm specialist. She gave as a fresh batch of horribly awkward interns. And then she gave Amelia a brain tumor. Oh.
*I realize these things weren't just Krista. It's collaborative. I'm just sayin' these things happened when she came back. 
And then Amelia had her tumor taken out. She woke up speaking French which was a little weird. She experienced firsthand how brutal her own post-op treatment plan really is. Ain't That A Kick in the Head, Amelia? And this was the episode where I got a lot of stuff wrong. Which is fine. It's good actually, because that means it's not getting predictable. I was so on board with Meredith and Nathan that I was blind to Megan and Nathan's past. But then I was thrown into the Danger Zone and it all made sense. I'm just glad another character got their happy ending instead of being crushed under a plane or run over by a bus.
So, Nathan was gone. Jackson was inviting all the guys to Come on Down to His Boat, Baby, Meredith was being put on the cover of medical journals and nominated for Harper Avery awards, Jo was getting a divorce, the new interns were excited to work in a hospital that Meredith Grey worked in… a lot of good things were happening.
And that leaves us here: waiting for 300. It doesn't feel possible that we're to this point. I know I wrote a lot, but covering plots that took up 299 episodes? That is a lot, and I didn't even hit everything. And going back through things like I have been for over two weeks to pull this post together has really amplified the meaning this show has to me. I was reminded of why I fell in love with it so many years ago. And it's a great feeling.
---
I didn't want to end the post there. I needed to do something more, something that included as many people as possible, so I asked around on Twitter and Instagram for people to talk about their favorite things about Grey's, and I was overwhelmed with submissions. I mean, it's not everyday I'm writing a massive tribute to my favorite show because the 300th episode airs tonight. In fact, I've never done that until now. So, I had to make it special. I had to ask people what this show has done for them. Here's what they said:
First off, my mother insisted on being included (we've been watching together for a really long time). Apparently, this is her favorite scene:
Shaye's dorm room has just the right amount of Cristina Yang influence.

"Because of Grey's, I have learned that things happen for a reason, and they usually happen when you least expect it. But it's these things that make life so interesting and meaningful. I am stronger and more determined because of the powerful women that are portrayed and that have made the last 299 episodes possible. I've learned to be unstoppable, find my voice, and stand up for what I believe in. And in the process, I have found my true family and friends. This show, and these amazing characters have brought me so much happiness and for that I am eternally grateful." ––Shaye B.
Lina's Favorite On-Screen Relationship:
"I think we all agree that the friendship between Meredith Grey and Cristina Yang will always be the most iconic relationship of the show. Through good and bad times, no matter what, they were there for each other. If Cristina has to hold Meredith back from a gunman, she'll do it. If Meredith has to cut Cristina out of her wedding dress, she'll do that. Because that's what you do for your person. They always pushed each other to their greatest potential, to go after their dreams. Together, they both became extraordinary."
Ella P. (@tearsofgreys)
Favorite quote: "Have some fire, be unstoppable. Be a force of nature." ––Cristina Yang
"My favorite thing about Grey's are the stories and how they are still so relevant. With so many controversial topics in the air, they really make me question myself and reevaluate the things I stand for (in a good way, of course)."
"One lesson I've taken from the show is that life will always continue. That the sun will rise and will set. That there will be a tomorrow. That life will out."
"My favorite thing about Grey's is how the storylines are so relatable and how grounded the show is after 14 years. The characters are still growing and changing just like we are growing and changing. Also, the monologues at the beginning and end of the episodes are so uplifting, powerful and honest. They speak to everyone." ––Elspeth M.
Lauren's (@CamillaLNews) favorite quote:
"I'm a freakin' warrior queen." ––Jo Wilson
Lauren's favorite moment: Alex and Jo's first kiss of course!
Tara's favorite quote:
"If you love someone, you tell them. Even if you're scared that it's not the right thing. Even if you're scared that it'll cause problems. Even if you're scared that it will burn your life to the ground, you say it, and you say it loud, and you go from there. ––Mark Sloan
Kate's favorite moment:
Meredith and Cristina in the locker room way back in season three. Cristina was being ostracized by the interns because of her involvement with covering for Burke's tremor, but Meredith wasn't having it. She stood up for Cristina, telling the the AGI portion of MAGIC to let Cristina off the hook. Meredith looked at her and said this: "You're my sister. You're my family. You're all I've got." 
Kimberly's favorite quote:
"Oh screw beautiful! I'm brilliant! If you want to appease me, compliment my brain!"
––Cristina Yang
It does stop turning… (Photo by Jordyn Rowland)

"Grey's shows me that it's okay to put yourself and your career first, and it's okay if you don't want to have kids, it doesn't make you less of a woman. The show has taught me that it's okay if I don't please everyone as long as I'm doing what I love. And it's taught me that I never have to apologize for that." ––Maggie R. (Magflower_)
Denise B.'s favorite moment:
"'Sometimes the future changes quickly and completely, and we're left with only the choice of what to do next. We can choose to be afraid of it, to stand there trembling, not moving, assuming the worst that can happen, or we step forward into the unknown and assume it will be brilliant.' ––Cristina Yang 
That moment taught me to always listen to my heart and to never stand in my own way. Never be afraid to follow your dreams because you never know where they will take you. Worst case scenario, you get to say you tried everything."
Court's (@AnatomyMer93) favorite scene:
Season 10, episode 24 – Cristina is preparing to leave her person for the first time. An ocean is about to separate them and she tells her what I think is the most important thing anyone has ever told Meredith: "Don't let what he wants eclipse what you need. He is very dreamy, but he is not the sun. You are."
Maggie's (@Magflower_) Favorite Relationship:
"I swear [Meredith and Ellis] are one of the most dynamic relationships on TV. Growing up with a mother like Ellis isn't easy; my mom is a surgeon and while she isn't nearly as intense as Ellis, I do understand that pressure. Meredith learned so much from Ellis, and is learning still from her to this day. While Meredith isn't Ellis in any sense, she does have her fire and her attitude of 'I am a woman and I will do this,' and even seeing the interns talk about Meredith the way Izzie and Cristina talked about Ellis in the pilot was just… wow. Full circle."
---
And to wrap things up, I asked my best friend Carrie to say a little something, and she ended up saying a lot. I wanted her to speak because our relationship is proof that this isn't just a TV show to us. People don't always get it and that's okay, they don't have to. The people I need to understand it, do. Carrie included. Here's what she had to say:
"They say that it's just a TV show. What they don't know is that it's so much more. Grey's has become a part of who I am. It's the reason why I am pursuing a career in the television industry. And it helped my find my best friend, my person. I met Jordyn through the fandom and the moment we started talking, I knew I had found my best man at my wedding. (Jordyn here: she said best man, not maid of honor…the bride is always right, right? Does that mean I can't argue? I'm not sure how good I'll look in a tux, Carrie.) 
From day one, we were known as the "Twisted Sisters 2.0″ because no one can ever top Cristina and Meredith obviously. From late night phone calls, to FaceTiming each other while we watch Grey's, to finally meeting each other in person over a year ago, to meeting the one and only Ellen Pompeo, our inspiration, to seeing each other start to truly go after our dreams and what we want in life, we're still going strong. She's still my person and I am still hers. It's been almost two years, but I feel like I've known her my whole life. Without Grey's, I wouldn't have my best friend. My soulmate. Who knew that 300 episodes of one TV show would lead me to finding my person? That's something I will always be grateful for. " ––Carrie McKenna
---
So, there you have it. A huge, massive, #Greys300 tribute. I hope it was worthy of all the hype. And now that this is out of the way, I can prepare myself for tonight! Hopefully. Krista has a long standing habit of ruining my emotional stability and I don't see her ending that streak any time soon. And naming the episode after a Hamilton song? I'm starting to think she does it just to destroy me. If I make it through this episode in tact, stay tuned for an epic review this weekend!
xoxo,
J